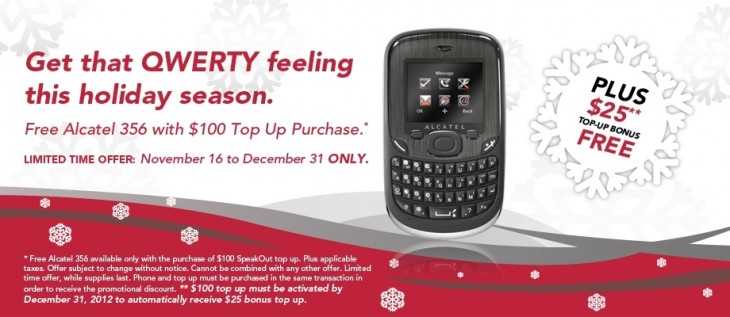 Right now through 7-Eleven Speak­Out wire­less you can get a free Alac­tel phone with a $100 top up. Plus you'll get an addi­tional $25 top up bonus. If you are in need of a pre-paid cell phone, now is a good time to pick one up.
The phone in ques­tions is the Alac­tel 356. The phone itself also comes with $5 in min­utes preloaded.
Alac­tel 356 Features
Two-way SMS text messaging
FM Radio RDS
Speaker Phone
Voice mail, caller ID, call wait­ing, three-way calling
Vibra­tion & MP3 Ringtones
Games
500 Con­tacts
MicroSD (up to 4GB)* not included
The Fine Print
Can­not be com­bined with any other offer. Lim­ited time offer, while sup­plies last. Phone and top up must be pur­chased in the same trans­ac­tion in order to receive the pro­mo­tional dis­count. $100 Top Up must be acti­vated by Decem­ber 31, 2012 to auto­mat­i­cally receive $25 bonus top up.
This offer expires Decem­ber 31st, 2012.