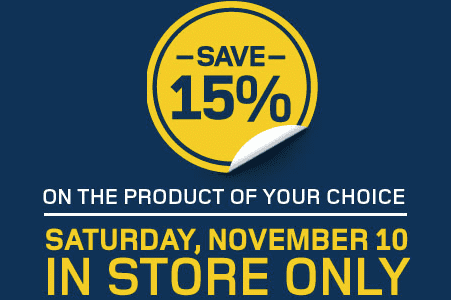 Save 15% on a product of your choice at Rona in-store only on Saturday, November 10th, 2012 only. This includes items already in sale!
Rona has loads of useful household products including expensive ones like hardwood. This would be a great time to purchase such items.
Rona Promo Details
This promotion runs at all RONA participating stores. This sticker is handed out in store on Saturday, November 10, 2012, only. Consumers will save 15% on one product of their choice per transaction, per family, per person, per day. Limit of 15 units of the same product (same product code). Discount applies Saturday, November 10, 2012, on all in-stock merchandise available in store only. Special orders, the purchase of RONA gift cards, layaways and services offered in store, such as installation, delivery, rentals, cut shop services, etc., are not eligible for this promotion. Limited quantities on certain products. Discount applicable before taxes. Only "Cash and Carry" purchases paid by cash, debit or major credit cards are eligible. This offer is not valid on contractor or house accounts. Cannot be combined with any other offer, but applies to products already on sale in the flyer (except for ''Steal of a deal'' offers and category rebates). Some conditions apply. Details in store.