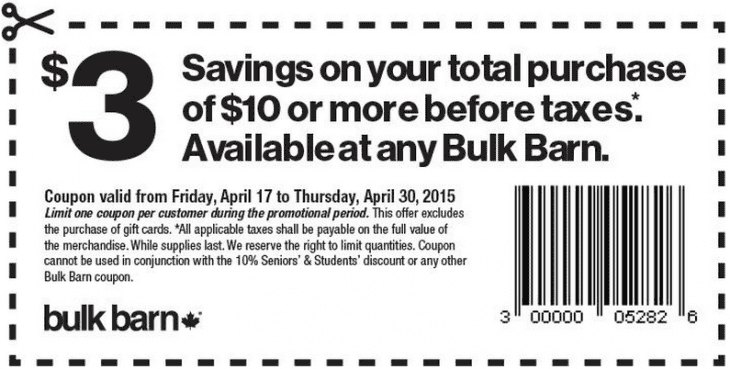 Here's a new Bulk Barn dis­count coupon for you! ! This Bulk Barn coupon includes:
Save $3.00 on your total pur­chase of $10 or more before taxes at Bulk Barn Canada!
The Bulk Barn dis­count print­able coupon is valid for 2 weeks only from today, Fri­day, April 17 until Thurs­day, April 30, 2015.
Limit one coupon per cus­tomer dur­ing the pro­mo­tional period. This Bulk Barn Canada offer excludes the pur­chase of gift cards. All applic­a­ble taxes shall be payable on the full value of the mer­chan­dise. Coupon can­not be used in con­junc­tion with the 10% Seniors' and Stu­dents dis­count or any other Bulk Barn coupon.
Click here to view Bulk Barn Canada online flyers.
Click below to get your Bulk Barn Canada print­able coupon. Enjoy