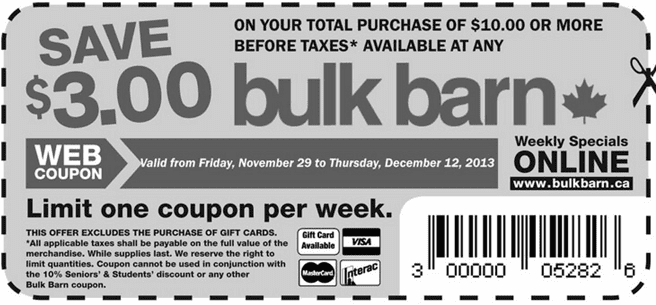 New great spe­cial offers plus $3.00 OFF sav­ings coupon at Bulk Barn Canada. These Bulk Barn print­able coupon and spe­cial offers are valid from today, Fri­day, Novem­ber 29 until Thurs­day Decem­ber 12, 2013.
Please

print your Bulk Barn coupon

to save $3.00 on your total pur­chase of $10.00 or more.

Also, save from 25%-30% on select mer­chan­dis (Raisins, Almonds, Golden Yel­low or Dark Brown Sugar, Cran­ber­ries, Cashews, Appi­cots, Mixed nuts and Dates and more)
Click here to print your Bulk Barn Canada sav­ings coupon.
Click here for details on Bulk Barn Canada Fly­ers. Enjoy