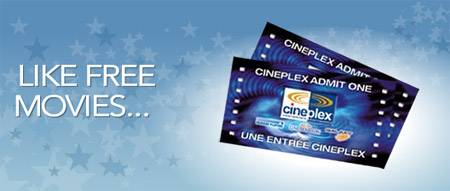 Who doesn't love hear­ing the words, 'free movie', espe­cially when to qual­ify for this free movie voucher from Cine­plex Canada, all you have to do is pur­chase a movie online using Visa Check­out. You will of course have to be buy­ing your tick­ets online to use the Visa Check­out sys­tem, but by doing this you will also guar­an­tee that you have your tick­ets secured before you even arrive at the theatre.
After select­ing to use Visa Check­out to pay for your tick­ets, which it doesn't mat­ter how many you are buy­ing, so long as you are using the Visa Check­out sys­tem, you will receive a voucher code to be used online for one free gen­eral admis­sion ticket.
This offer from Cine­plex Canada will only be avail­able until May 3rd.
Click below to buy your tick­ets online to receive a free Cine­plex movie voucher. Enjoy