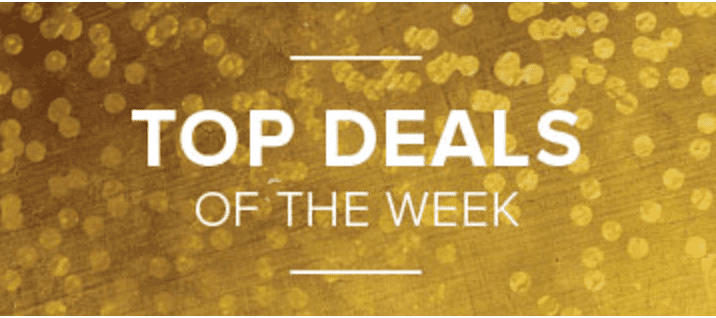 Well.ca have released their new top deals of this week! The Well.ca deals of the week are valid until Sunday August 27, 2017 and include:
up to 30% on Lunch Gear
up to 20% on Our Favourite Personal Care Items
up to 25% on Top Cleaning & Laundry
up to 25% on Herbals & Herbal Remedies
up to 30% on Parkland
20% on Maxi-Cosi Jool
up to 20% on Top Organic Food
15% on Maxi-Cosi Mico Car Seats
up to 20% on Vega
15% on Our Favourite Green Beauty Products
25% on NutraSea
20% on Pacifica
15% on AOR
25% on Crocodile Creek Backpacks, Lunchbags & Snacks on the Go
15% on Ergobaby
up to 25% on Long Weekend Essentials
20% on method Refills
up to 15% on Hair Regrowth
20% on S.T.E.M. Toys
15% on Bling Your Backpack
15% on Scooters and Accessories
15% on select Little Unicorn
25% on JJ Cole
$200 on City Select Black Frame Stroller and "MUST HAVE" extras
20% on Kids School Supplies
25% on S'ip by S'well – Coupon Code: SAVEONSIP
15% on Earth's Best Diapers
25% on Urban Infant
Buy any Skip Hop Backpack and Receive a Free Colouring & Sticker Book COUPON CODE : SKIPHOP
up to 75% on Baby Clearance
up to 50% on select Sun Care
20% on Badger
25% on all Physician's Formula
15% on Thayers Natural Remedies
15% on Milani
25% on Olay
20% on Lelo Hex Condoms
15% on eos
20% on Urban Spa
20% on Vaseline
up to 25% on select Sexual Wellness
up to 15% on Must Have Summer Hair Care
up to 15% on Diffusers
10% on Travel Sizes & Trial Packs
20% on Philips Grooming
20% on Philips Sonicare
20% on Tints of Nature
10% on Smell the Roses
20% on Tresemme
25% on K-Y
25% on Schwarzkopf and Got2b
up to 40% on Wearever
up to 20% on Top Snacks for Kids
up to 20% on Pasta, Grains & Beans
up to 15% on Beverages
20% on PUR
15% on Glutino
up to 30% on School & Office Supplies
up to 30% on Travel Mugs
20% on Lug
20% on Rockin' Green
up to 25% on Swiffer
20% on Potting Shed Creations
15% on Land Art
15% on Nu Life
15% on Living Alchemy
25% on Cold-FX
10% on Band-Aid
20% on PaleoEthics
10% on bkr
20% on Camelbak
Purchase any Parkland Backpack & Receive a Free Parkland Water Bottle – Coupon Code: Parkland
Bundle Up & Save 25% on Zoku
Well.ca offers FREE shipping on all orders that are $35 or more.
Click here to get all Well.ca sales of the week.