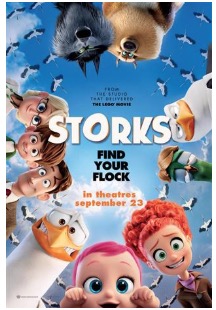 Cineplex Canada has a new movie every Saturday at 11:00 am for $2.99 per ticket. Today, Saturday, June 9, 2018, at 11:00 am the film Storks, Animation, Comedy, Family, is the Family Favourites for $2.99 (1h 33m).
Cineplex Canada has released their new schedule for June, July, August & September 2018.
Join Cineplex Wednesdays in July and August! Cineplex $2.99 family favourite movies continue every Saturday at 11:00 a.m. It's a fun and affordable way to enjoy the summertime with your family and friends! A portion of the proceeds goes towards supporting WE Charity.
Here's a list of the upcoming weekly movies line-up at Cineplex Family Favourites for only $2.99:
June 2018:
Saturday, June 16, 2018: Justice League
Saturday, June 23, 2018: The Land Before Time
Saturday, June 30, 2018: Despicable Me 3
July 2018:
Wednesday, July 4, 2018: Despicable Me 3
Saturday, July 4, 2018: Captain Underpants: The First Epic Movie
Wednesday, July 11, 2018: Captain Underpants: The First Epic Movie
Saturday, July 14, 2018: Ice Dragon – Legend of the Blue Daisies
Wednesday, July 18, 2018: Ice Dragon – Legend of the Blue Daisies
Saturday, July 21, 2018: The Greatest Showman
Wednesday, July 25, 2018: The Greatest Showman
Saturday, July 28, 2018: The Princess Bride
August 2018:
Wednesday, August 1, 2018: The Princess Bride
Saturday, August 4, 2018: Sherlock Gnomes
Wednesday, August 8, 2018: Sherlock Gnomes
Saturday, August 11, 2018: Jumanji: Welcome To The Jungle
Wednesday, August 15, 2018: Jumanji: Welcome To The Jungle
Saturday, August 18, 2018: Peter Rabbit
Wednesday, August 22, 2018: Peter Rabbit
Saturday, August 25, 2018: Paddington 2
Wednesday, August 29, 2018: Paddington 2
September 2018:
Saturday, September 1, 2018: The LEGO Movie
Saturday, September 8, 2018: The Secret Life Of Pets
Saturday, September 15, 2018: E.T. the Extra-Terrestrial
Saturday, September 22, 2018: Show Dogs
Saturday, September 29, 2018: Wonder
Click here to view a list of participating Cineplex movie theatres locations
Click below to get tickets from Cineplex online. Enjoy 🙂