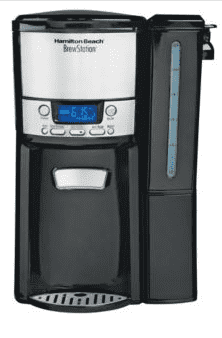 Canadian Tire has the Hamilton Beach BrewStation 12-cup Coffee Maker on sale right now for $39.99  (50% off). The coffee maker comes with a 1 year warranty with Canadian Tire, as well as a 5 years manufactures warranty (Canadian tire covers the 1st year, Hamilton Beach the next 4).
Product Features
Hamilton Beach BrewStation™ 12-cup Coffee Maker brews a full 12 cups and dispenses one fresh cup at a time
Forget the Carafe™ means no pouring, no spilling, no breaking and no burnt coffee flavor
Features a removable water reservoir makes filling easy
Adjustable auto shutoff which is customizable from 0-4 hours
Gentle warming heater maintains coffee's temperature with no hot plate to scorch coffee flavor
Versatile brewing, choose from bold, regular or small-batch options
Can be programmabled for iced coffee
Dispense coffee with one hand
Check the link below to determine inventory status at a store near you.