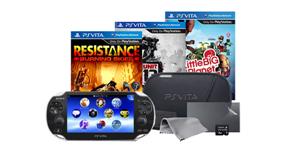 NCIX has a special weekend deal on for the PS Vita With 3 Games & Official PS Vita Starter Kit Including 4GB Memory Card for $299.99 (Save $119.96). This is a web only deal. You can have this shipped to your nearest store for free however, otherwise you will have to pay shipping.
In about 3 weeks there will be an Assasins Creed bundle if you are looking to wait. This will include a White PlayStation Vita Wi-Fi System, Assassin's Creed III Liberation & a 4GB Memory Card.
What's Included in the Bundle
Offer expires October 8th.