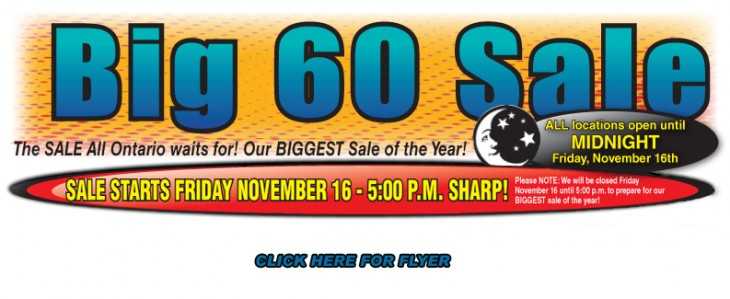 National Sports is having their Big 60 sale this coming Friday, November 16th. The entire store will be on sale or clearance priced.
The sale does not start until 5PM that day and all locations will be open until Midnight. The stores will not be open during the day Friday.
If that's not enough, you can use the coupon they put out earlier to save $10 off on a purchase of $25 or more. Simply use the link below to grab your coupon.
National Sports Big 60 Sale Highlights
COLUMBIA BOY'S/GIRL'S POWERDERBUG PLUS II OR POWERDERBUG PLUS II PRINT BOOTS for $39.99
REEBOK MEN'S/WOMEN'S ZIG OR REALFLEX for $59.99 or  JUNIOR SELECTED for $39.99
NIKE MEN'S/WOMEN'S SELECTED WINTER BOOTS for $59.99
ADULTS TEAM SPORTS JACKETS (NFL, NHL, MLB) for $64.99
ADIDAS MEN'S PADDED JACKET for $35.99
COLUMBIA MEN'S SHREDINATOR WINTER JACKET for $79.99
NIKE ADULT SWIFT 3rd TEAM CANADA JERSEY for $49.99
CONVERSE SHOES for $29.99
TAPOLIT MEN'S SELECTED TEES OR HOODYS for $9.99 to $14.99
ADIDAS MEN'S SELECTED FLEECE PANTS for $24.99
ONE PIECE COMPOSITE HOCKEY STICKS for $29.99