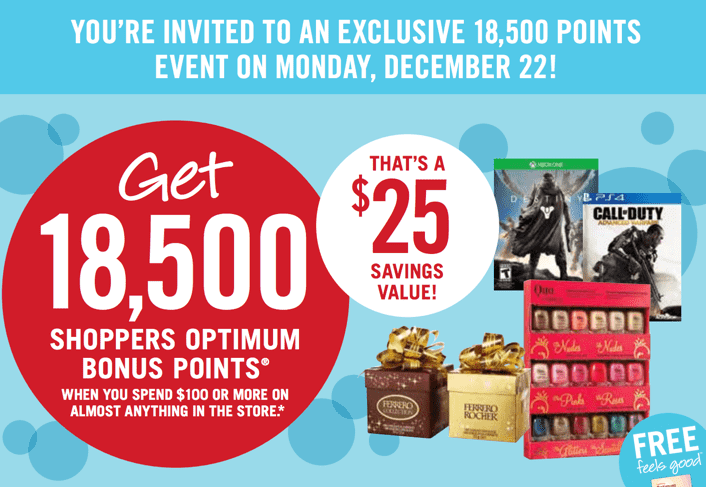 You're invited to an exclusive 18,500 points event on Monday, December 22, 2014 from Shop­pers Drug Mart Canada!
Get 18,500 Shop­pers opti­mum bonus points (that's like $25 worth of free stuff) when you spend $100 or more on almost any­thing in the store!
This Shop­pers Drug Mart offer is valid on Monday, Decem­ber 22, 2014 and the bonus points will be awarded to your account by end of day Monday, January 5, 2015.
Excludes: pre­scrip­tion pur­chases, prod­ucts that con­tain codeine, non-pointable items, tobacco prod­ucts, lot­tery tick­ets, stamps, tran­sit tick­ets and passes, event tick­ets, gift cards, pre­paid card prod­ucts and Shop­pers Home Health Care loca­tions. Offer applies to photofin­ish­ing ser­vices that are picked up and paid for on the day of the offer only. Not to be used in con­junc­tion with any other Shop­pers Opti­mum Points®
Click below to print and present your Shop­pers Drug Mart coupon. Enjoy 🙂