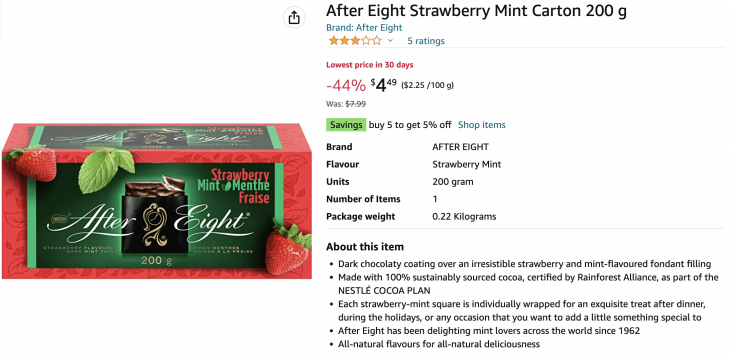 I spotted these Strawberry Mint After Eight chocolates in a grocery store on a display about a month back, and I actually stopped and did a double take…because strawberry? I'm not sure why of all the flavours in the world Nestle chose Strawberry to be a variety of After Eight, but they are out there, and perhaps you'd like to try them?
The 200g package of After Eight Strawberry Mint is $4.49 at Amazon.ca right now, which is 44% off the regular price of $7.99. After Eight are on sale at plenty of stores this time of year but if you are ordering from Amazon anyway it's easy enough to add these to an order. You can also save 5% when you buy 5 select products, and these are a part of that promo.
After Eight has been delighting chocolate mint lovers since 1962, which means it's taken Nestle 61 years to finally ruin it with this strawberry flavour. If you have tried these and enjoyed them let us know, and please to explain to me why lol.
Click here to give the Strawberry Mint After Eight a chance!