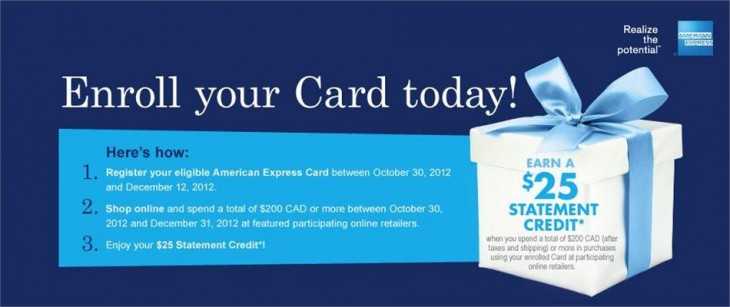 If you are an American Express Card holder you should be receiving an invite to earn a statement credit. Simply spend $200 at participating retailers online and you'll receive a $25 statement credit.
You must register your card at the link below prior to making purchases online to be eligible for the offer as well as meet the following requirements.
To Be Eligible
Your account must be in good standing
You must enroll in the American Express Registered Card program by December 12, 2012 at www.americanexpress.ca/holidayshop
Once you have enrolled,  you can charge qualifying purchases to your Card
Offer is available between October 30, 2012 to December 31, 2012
Purchases made during the offer period prior to enrollment in this Program are not qualifying purchases
Participating online retailers: Roots, McNally Robinson, Ticketmaster.ca, Dell, The Home Depot, Costco, Old Navy, The Gap, Banana Republic, XM Radio, Toys R Us, Baby's R Us, Beyond the Rack, Sporting Life, Best Buy, Future Shop, Browns, The Brick, Warehouse One, Visions, Harry Rosen.