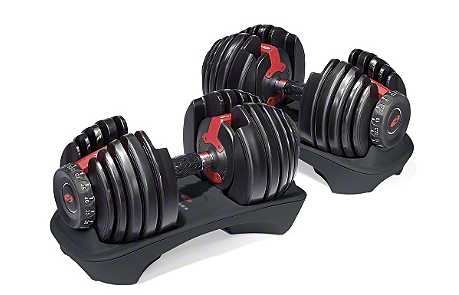 Right now the Bowflex SelectTech 552 Dumbbells are on sale for $299. Use the coupon code CAS5DFSU12 ($50 off) to get this price. The $50 off also applies to the 1090 Dumbbells as well.
These also ship free from Bowlex directly to most locations.
Product Features
Replaces up to 30 Dumbbells – with a turn of a dial you can automatically change your resistance from 5 lbs (2.27 kg) all the way up to 52.5 lbs (23.8 kg) of weight.
Adjusts to Your Workout – adjust in 2.5 lb (1.13 kg) increments (up to the first 25 lbs) (11.3 kg) so you can gradually increase your strength.
Space Efficient – One of the most space-efficient and flexible strength-training options available – say goodbye to 15 sets of dumbbells cluttering your workout space.
Wider Weight Range – with weight that adjusts up to 52.2 lbs., you'll continue to see results as your fitness level improves.
Quieter Workouts – durable molding around metal plates provides for a smooth lift-off and quieter workouts…no clanging metal plates!
Total Body Results – with the wider weight range you can do heavy exercises such as shrugs and lunges as well as lighter exercises such as curls and raises.
Special Bonus FREE Bowflex SelectTech workout DVD – "Secrets of the 4 Step Rep" – with every purchase. Get the most out of your workout – work smarter, not harder. Over 30 exercises with over 80 variation
The Fine Print
Offer only valid at www.BowflexSelectTech.ca. Offer is available to major metropolitan centers only. For customers residing in the Northwest Territories, Yukon or Nunavut please contact us at (866) 382-3091. For a limited time only. Offer not to be combined with any other offer and is subject to availability and may change at any time. Offer is valid once to a customer and excludes previously placed orders. Offer is not valid at retail stores or outlets.
Offer expires December 31st, 2012.