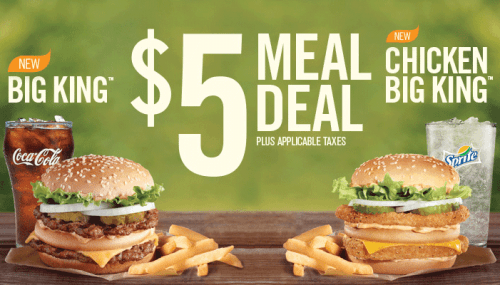 Burger King Canada has some hot new Digital Coupons! Now Burger King accepting online and mobile coupons. These coupons include:
Buy one Big King or Chicken King sandwich and get a second one for free
Buy 1 Whopper sandwich with medium fries and medium soft drink for $5.
Buy one Whopper Sandwich, Original Chicken Sandwich, or BK Veggie Sandwich at regular price and get the second one for free.
Get a Whopper Sandwich for $2.50.
get 2 Whopper sandwiches/Original Chicken sandwiches/BK Veggie sandwich, 2 medium french fries & 2 medium drinks for $9.48.
These Burger King coupons are valid until Sunday, August 24, 2014 only.
Click below to print these Burger King Canada coupons. Bon Appétit! Enjoy 🙂