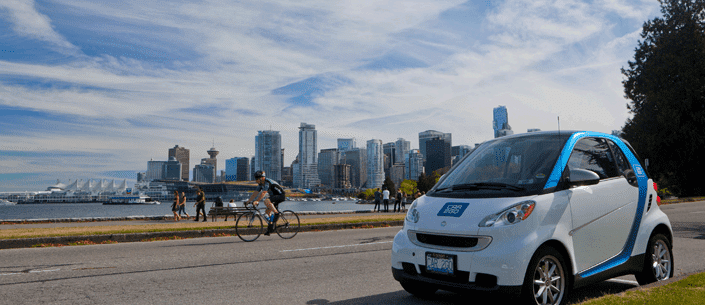 Car2Go is a car sharing program located in Calgary, Toronto and Vancouver. It's a free floating concept, in that there are no specifics in terms of return times and locations. For a rate as low as 35 cents per minute (rate may vary by location) which includes refueling, cleaning, roadside assistance, GPS navigation, insurance, and parking you gain access to one of several hundred cars in the car2go network.
Cars can be accessed on demand, or reserved for up to 24 hours in advance (book by Internet or phone). For on demand access it's as simple as swiping your membership card against the vehicles windshield. To keep hold of your car simply select stop over and it will block anyone else from accessing the car. You can keep the car for short, intermediate or long trips. When you're done, simply park the car in an above ground Green P parking lot or designated car2go parking location.
Who can register?
A member needs 3 or more years of driving experience
Members cannot have a learners permit (N is permitted)
Members must have a drivers abstract in good standing (no alcohol or drug prohibitions)
How to register?
Click the "join now" button on the website of the appropriate location (use home page link provided below)
Fill out your personal and billing information (credit card required)
Receive and send in your drivers abstract (Vancouver location only)
You will receive your membership card within 5 business days
If you have any interest in the service and think you might need it down the line it's a good idea to sign up now if you are in an area with a promotion for free sign up.
Promotion Codes
Live Green Members get their activation fee waved, 30 minutes free drive time + a free t-shirt. Use the promo code LIVEGREEN. Sign up is free to Live Green.
Use the promo FALL2012 for a reduced activation fee of $10 and 30 minutes free drive time.
Regular activation costs $35. The activation fee is one time only and is a lifetime deal.
Note: Members are responsible for all processing costs related to damage for which they are responsible, such as extreme soiling of the car2go, driving offenses, and violations of the valid terms of use.