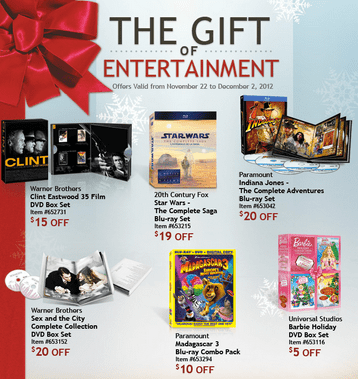 Costco, the Gift of Entertainment offers: Valid from Thursday, November 22 to Sunday December 2, 2012. Only available at your local Costco warehouse. Not available on Costco.ca.
 Get $10 off, Paramount Madagascar Blu-ray Combo Pack, Item #653294.
Get $15 off, Warner Brothers Clint Eastwood 35 Film DVD Box Set, Item #652731.
Get $19 off, 20th Century Fox Star Wars – The Complete Saga Blu-ray Set, Item #653215.
Get $20 off, Paramount Indiana Jones – The Complete Adventures Blu-ray Set, Item #653042.
Get $20 off, Warner Brothers Sex and the City Complete Collection DVD Box Set, Item #653152.
Get $5 off, Universal Studios Barbie Holiday DVD Box Set Item #653116.