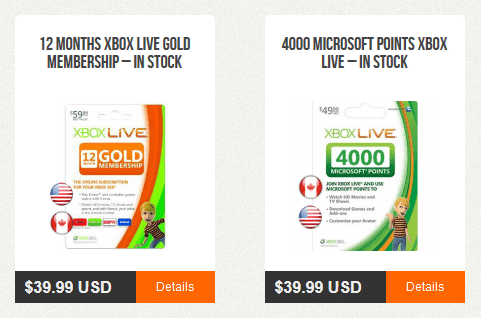 Right now CrazyGa­me­Time has 4000 Microsoft Points for the XBOX on sale for $39.99 USD. They also have 12-month XBOX Live Gold Memberships on sale for $39.99 USD.
Use the promo code MS4000 for the 4000 Microsoft Points and XBL12 for the 12-month XBOX Live Gold Membership.
The point cards are not for actu­ally phys­i­cal points cards, you will be emailed the codes that you will need to enter into your account on the XBOX web­site. These codes should be received within 1–5 min­utes after your pay­ment has cleared. These codes have been ver­i­fied to work on Cana­dian accounts. It seems only the 1600 point cards do not work on Cana­dian accounts.
This site only accepts pay­ments through Pay­Pal, but you can of course still just use your credit card through Pay­Pal and you are actu­ally more secure that way.
Note: Before mak­ing a pur­chase your phone num­ber will need to be ver­i­fied. This is done through an auto­mated sys­tem and it used to reduce fraud. It's best to use a home phone num­ber as peo­ple have been hav­ing issues with cell phones work­ing for the process.