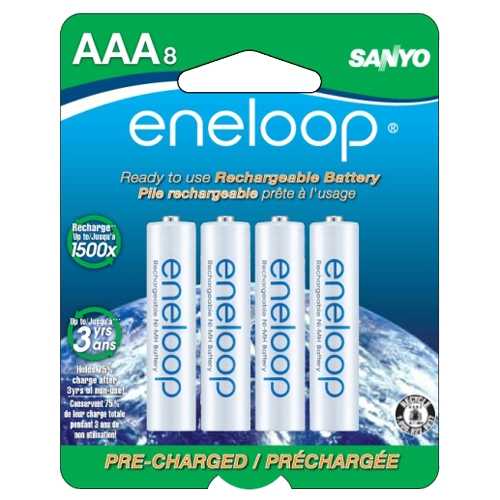 Dell has Sanyo Eneloop batteries on sale for $19.99. You can pick up a 8 pack of AAA or AA batteries for this price. These batteries also ship for free.
If you aren't in need of a charger this is a nice offer and the way to go.
Click here to purchase the AAA 8-pack
Click here to purchase the AA 8-pack
These sell quite well, so currently it will take 1-2 weeks for them to ship out, but you can still order.
Product Features
Pre-charged and ready to use
Retains power longer than regular rechargeable batteries
Holds up to 85% of their charge for 1 year and up to 75% for 3 years of non-use
compared to regular rechargeable which lose 1% of their energy per day when left unused
Can be charged up to1500 times
No memory effect: Do not need to be fully discharged before recharging
Batteries can operate in temperatures up to -20º
Recyclable
Switching to rechargeable means fewer non-rechargeable batteries in the waste stream
Distributed by Panasonic Canada Inc.