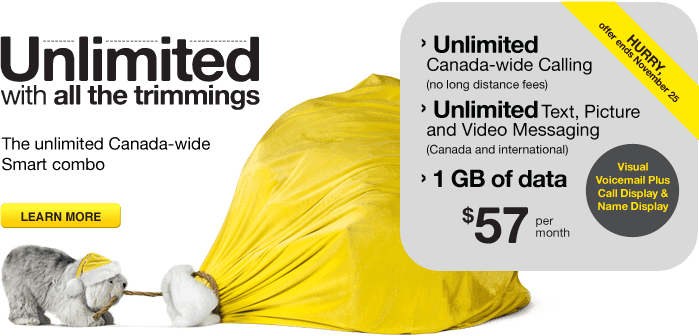 Fido has a nice unlimited everything plan available as a promo right now for $57 per month. There are no activation or system access fees.
Plans at Fido are avail­able monthly or on a 2-year agree­ment for smart plans and a 3-year agree­ment for max plans.
Fido $57 Smart Plan
Unlim­ited incom­ing texts
Unlim­ited out­go­ing texts
Unlim­ited out­go­ing inter­na­tional texts
Unlim­ited pic­ture and video messaging
Unlim­ited any­time minutes
Unlim­ited incom­ing calls
Unlim­ited evenings & weekends
Unlim­ited Canada-wide long distance
1 GB data
Note: iPhone's are are not eli­gi­ble for Smart Plans.
This promo expires Novem­ber 25th.