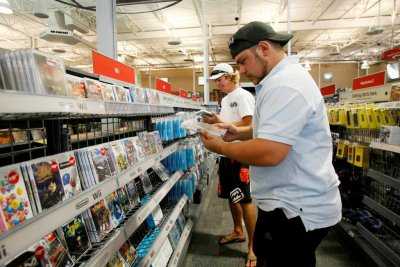 Future Shop Trade in Deals
Trade in 2 select games and get a $60 gift card
Trade 2 games and get Hitman Absolution free (XBOX 360, PlayStation 3)
Trade 2 games and get Epic Mickey 2 (XBOX 360, PlayStation 3)
Trade 2 games and get PlayStation All-Stars Battle Royale (PlayStation 3)
What exactly you can trade in for these games will depend on the list of qual­i­fiers. The list will be updated on Fri­day, how­ever to get an idea you can check the list now at the "get the deal" link below or by click­ing on the image above. The list does change from week to week, but a lot of games will remain on the list from week to week.
If you have a $10 coupon for the month of November already you could use it to pickup a qual­i­fier to trade in, or you could check out some of the other weekly deals com­ing at Future Shop.
Future Shop Weekly Deals
Get $10 toward select titles in December when you purchase new release titles
Buy any XBOX 360 console and get 50% off a 3-month XBOX live card
Ratchet and Clank Ultimate Combo Pack for $59.99
God of War Ultimate Combo Pack for $59.99
32 GB Deluxe Wii U for $349.99
Wii U Pro Controller for $49.99
Wii U Remote Plus for $44.99
Wii U Microphone for $29.99
XBOX Live 3-month gold card for $24.99
Zombi U for $59.99 (Wii U)
Batman Arkham City + Free Steelbook for $59.99 (Wii U)
Assassins Creed 3 + Free Steelbook for $59.99 (Wii U)
Fifa Soccer 13 for $59.99 (Wii U)
Epic Mickey 2 + Free Steelbook for $59.99 (Wii U)
The Fine Print (for trade in games)
Valid on PLAYSTATION3, Wii, and Xbox360 games. Games must include boxes. No dupli­cate titles accepted, regard­less of con­sole. Some titles may be excluded. No deal­ers please. See in-store for details. Credit from trade-ins is applied to free game. One trade 2 promo redemp­tion per cus­tomer. Excludes Man­i­toba, Vaughan, Nanaimo, Kelowna and Rich­mond Hill locations.