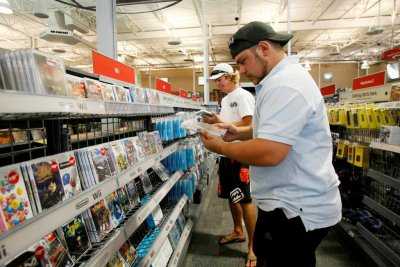 Future Shop Trade in Deals
Trade in 2 games and get Far Cry 3 (XBOX 360, PlayStation 3)
Trade 2 games and get Cabela's Dangerous Hunt 2013 (Wii U)
Trade 2 games and The Avengers (Wii U)
Trade 1 game and get The Walking Dead (XBOX 360, PlayStation 3)
Please note that the trade in deals are in effect December 4th to 6th only.
What exactly you can trade in for these games will depend on the list of qual­i­fiers. The list will be updated on Fri­day, how­ever to get an idea you can check the list now at the "get the deal" link below or by click­ing on the image above. The list does change from week to week, but a lot of games will remain on the list from week to week.
If you have a $10 coupon for the month of November already you could use it to pickup a qual­i­fier to trade in, or you could check out some of the other weekly deals com­ing at Future Shop.
Future Shop Weekly Deals
PlayStation Move Wonderbook of Spells for $79.99
The Walking Dead for $29.99 (PlayStation 3)
Ratchet and Clank Ultimate Combo Pack for $59.99
God of War Ultimate Combo Pack for $59.99
Just Dance Disney for $29.99 (XBOX Kinect)
XBOX 360 remote for $19.99
Game Party Champions for $29.99 (Wii U)
32 GB Deluxe Wii U for $349.99
The Sims 3 for $19.99 (PC)
The Sims 3: Seasons or Supernatural for $29.99 (PC)
NHL 13 for $49.99 (PlayStation 3)
XBOX Kinect + Kinect Adventures Games for $109.99
The Fine Print (for trade in games)
Valid on PLAYSTATION3, Wii, and Xbox360 games. Games must include boxes. No dupli­cate titles accepted, regard­less of con­sole. Some titles may be excluded. No deal­ers please. See in-store for details. Credit from trade-ins is applied to free game. One trade 2 promo redemp­tion per cus­tomer. Excludes Man­i­toba, Vaughan, Nanaimo, Kelowna and Rich­mond Hill locations.