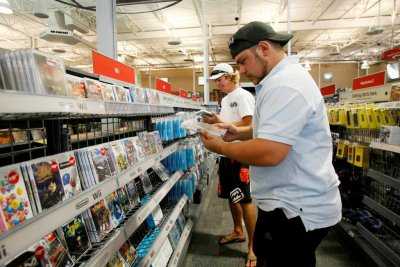 Future Shop Trade in Deals
Trade 2 games and get a $60 gaming credit with purchase of Forza Horizon for the XBOX 360 ($59.99)
Trade 1 game and get Just Dance: Disney Party for the Kinect or Wii
Trade 2 games and get Skylanders: Giants Portal Owners Pack for the Wii, 3DS, XBOX 360 or PlayStation 3.
What exactly you can trade in for these games will depend on the list of qual­i­fiers. The list will be updated on Fri­day, how­ever to get an idea you can check the list now at the "get the deal" link below or by click­ing on the image above. The list does change from week to week, but a lot of games will remain on the list from week to week.
If you have a $10 coupon for the month of Octo­ber already you could use it to pickup a qual­i­fier to trade in, or you could check out some of the other weekly deals com­ing at Future Shop.
Future Shop Weekly Deals
Get a $20 online credit for Halo when you buy new release games (October 23-25)
Get Medal of Honor: Warfighter Steelbook for $59.99 (XBOX 360, PC)
Get Forza Horizon: Limited Collectors Edition for $79.99 (XBOX 360)
Get a 12 month XBOX Live gold card for $59.99
Get the 4GB XBOX 360 Arcade Console with Kinect bundle and Kinect Adventures + L.A. Noire for $299.99
Get the PS VITA Madden 13 Bundle + free $50 Gift Card for $249.99
Get Street fighter X Tekken  for $39.99 (PS Vita)
Get Skylanders: Giants Starter Pack for $74.99 (Wii, PlayStation 3, XBOX 360, Nintendo 3DS)
The Fine Print (for trade in games)
Valid on PLAYSTATION3, Wii, and Xbox360 games. Games must include boxes. No dupli­cate titles accepted, regard­less of con­sole. Some titles may be excluded. No deal­ers please. See in-store for details. Credit from trade-ins is applied to free game. One trade 2 promo redemp­tion per cus­tomer. Excludes Man­i­toba, Vaughan, Nanaimo, Kelowna and Rich­mond Hill locations.