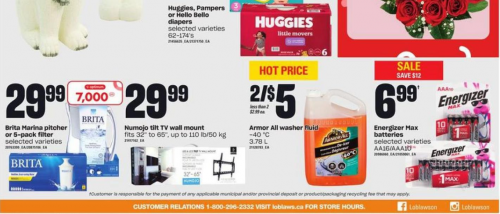 There are a few different PC Optimum offers lining up this week at Loblaws Ontario, resulting in this amazing deal on Brita Marina pitchers and 5-packs of filters.
This week, both the Brita Marina filter and the 5-packs of filters are advertised in the flyer for $29.99, with a bonus of 7,000 PC Optimum points with each purchase. There is also the flyer offer of 15,000 PC Optimum points for every $50 that you spend on General Merchandise this week, which would include these Brita products.
What is not advertised, is an additional 10,000 PC Optimum points when you purchase both the Brita pitcher and the 5-pack of filters! If you purchase both items for a total of $59.98, you get 15,000 points for spending $50, and 7,000 points for each from the flyer. With the additional unadvertised 10,000 points for buying both items the total is 39,000 PC Optimum points earned on this purchase, and you would be spending $59.98. After the value of the points your cost is just $20.98!
Click below to view this offer in the Loblaws Ontario flyer.  Enjoy 🙂