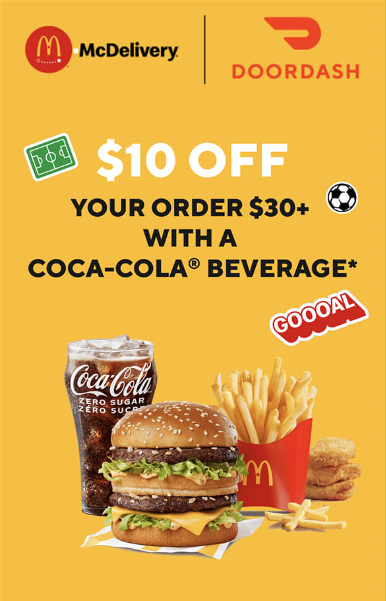 Canada is in the FIFA World Cup, and you can celebrate with McDonald's and Coke, delivered with DoorDash. Save $10 off an order of $30 or more when you purchase a Coca-Cola beverage. This offer is valid from today, November the 21st, until November the 27th.
The subtotal of your order must be $30 or more before taxes are applied, and the offer is not valid on Extra Value Meals. You may purchase any of the following Coca-Cola beverages: Coca-Cola, Diet Coke, Coke Zero, Sprite, Barq's Root Beer, NESTEA Iced Tea, Fruitopia Orange, and Fruitopia Strawberry. There is a limit of one redemption of this offer per person.
To redeem the offer, add your items to your order until you've hit a subtotal of at least $30, then add the eligible Coca-Cola beverage to your cart as well. You will see the discount automatically applied at checkout.
Click below to begin your order or to sign up for DoorDash.  Enjoy 🙂