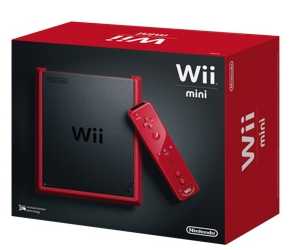 Nintendo is set to release the Wii mini for $99.99 on December 7th. The Wii mini is a slimed down version of the original Wii console and is comptabile with over 1300 Wii games.This is an exclusive console to Canada for the holidays and no plans have been set to release it elsewhere.
It's important to note that this has nothing to do with the Wii Universe in any way and is an entirely different console.
The two main drawbacks of the console are that it has no Internet capabilities and does not play Nintendo GameCube games.
Product Details
Includes Wii mini console, Wii Remote Plus and Nunchuk controllers.
Register Wii mini and receive coins. Visit club.nintendo.com to learn more.
Compatible with over 1,300 Wii games including top franchises from Mario to Zelda
Click here to pre-order from Future Shop