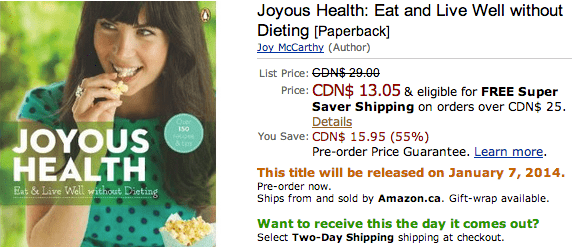 Amazon.ca has good offers.
Book Description
Release Date: Jan. 7 2014
Joyous Health is a fresh new approach to eating that will change the way you think about food and what you eat, offering a simple and practical path to creating a healthy lifestyle. Holistic nutritionist Joy McCarthy, creator of the popular blog Joyous Health, explains how to eat and live joyously with amazing results, both inside and out:
improved digestion

increased energy and zest for life

sleeping like a baby

glowing skin and shiny hair

balanced hormones

weight loss and increased libido

lowered blood pressure and cholesterol

feeling fabulous every day

 
Also, Amazon.ca has new deals today, Thursday, January 2, 2013.
Click below to get all Amazon.ca deals of the Day and also here to view all Amazon.ca online offers. Enjoy 🙂