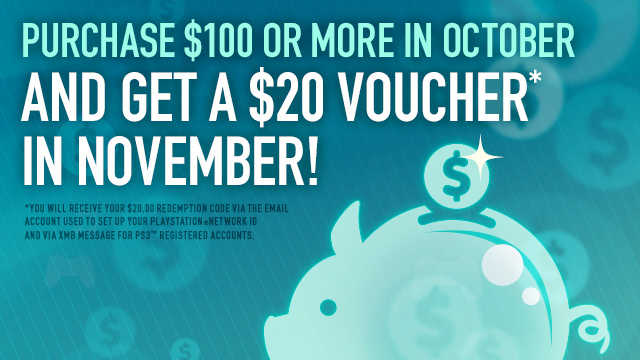 For the month of October purchase $100 or more on the PlayStation Network and get a $20 voucher to use in November. The $100 does not have to be made in one purchase, you can spread it out through the remainder of the month.
You will receive your $20 redemption code via the email account used to set up your PlayStation Network ID and via XMB message for PS3 registered accounts.
If you aren't already a member yet, a years subscription to PlayStation Plus is $49.99 and now could be the perfect time to grab a subscription. There is also PSN day 1 digital, where the newest games hit the PSN the same day as at retail. So if there is any new game you wish to pre-order, it can count towards this October total, even if it releases at a later date.
If that isn't enough, there are also games exclusive to the PSN only, so if you want to play them the PSN is the only way to get a hold of them.
PSN Exclusives
Flower
Wipeout HD
Super StarDust HD
PixelJunk Monsters
Cuboid
The Last Guy
Echochrome
Comet Crash
Lumines Supernova
Crash Commando
The above is just a sampling of the exclusive games tot he PSN network.