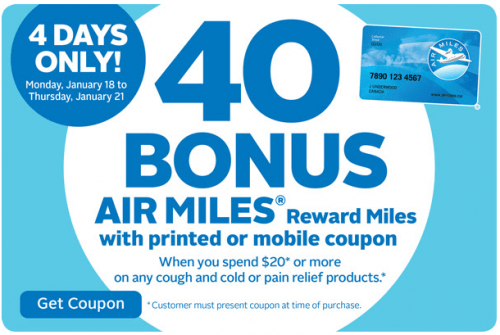 Good morning 🙂 Happy Tuesday! It's that time of the year when the cough and cold is going around so here's a great offer from Rexall PharmaPlus Canada where you can get 40 Air Miles Bonus Miles when you spend $20 or more on any cough and cold and pain relief products. This coupon is available for print or you can show it on your smart phone.
Be sure to check out the Rexall PharmaPlus Flyer for some more deals this week and more chances to earn more Air Miles Bonus Miles. Some cough and cold highlights include:
Tylenol Cold: $12.99
Save 10% on Cepacol
Benylin Cold & Sinus: $9.99
Save 20% on Braun or Vicks Thermometers, Vaporizers, or Humidifiers.
This coupon is valid from Monday, January 18 until Thursday, January 21, 2016.
Click here to get the Rexall PharmaPlus Canada coupon. Enjoy 🙂