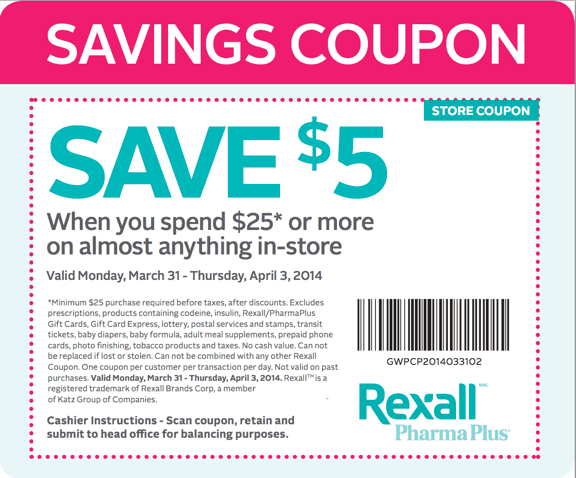 Rexall PharmaPlus Canada has a new savings coupon! Save $5.00 when you spend $25.00 or more on almost anything in-store. One coupon per customer per transaction per day. Rexall PharmaPlus Canada coupons must be printed, they do not accept mobile coupons.
Rexall PharmaPlus Canada is valid from today, Monday, March 31 until Thursday, April 3, 2014 only.
Excludes:
prescriptions, products containing codeine, insulin, Rexall/PharmaPlus Gift Cards, Gift Card Express, lottery, postal services and stamps, transit tickets, baby diapers, baby formula, adult meal supplements, prepaid phone cards, photo finishing, tobacco products and taxes.
Click here to print your Rexall PharmaPlus coupon.
Click below to view Rexall PharmaPlus Canada flyers. Enjoy 🙂