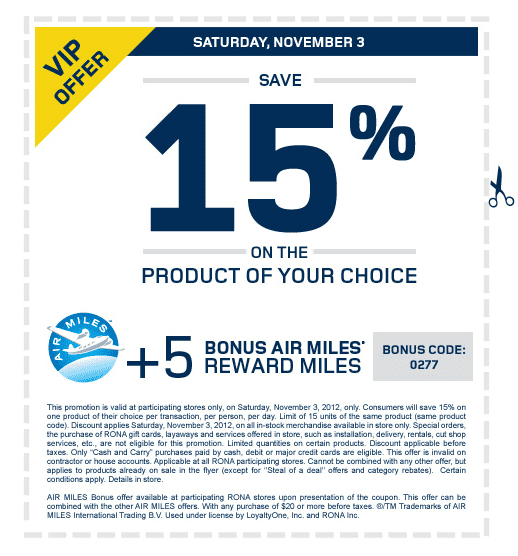 This Saturday, November 3rd save 15% off any product of your choice at Rona. Plus get a bonus 5 Air Miles reward miles.
Simply print the coupon found at the link below at bring it with you to receive your discount.
The Fine Print
Consumers will save 15% on one product of their choice per transaction, per person, per day. Limit of 15 units of the same product (same product code). Discount applies Saturday, November 3rd 2012, on all in-stock merchandise available in store only. Special orders, the purchase of RONA gift cards, layaways and services offered in store, such as installation, delivery, rentals, cut shop services, etc., are not eligible for this promotion. Limited quantities on certain products. Discount applicable before taxes. Only "Cash and Carry" purchases paid by cash, debit or major credit cards are eligible. This offer is invalid on contractor or house accounts. Cannot be combined with any other offer, but applies to products already on sale in the flyer (except for ''Steal of a deal" offers and category rebates).