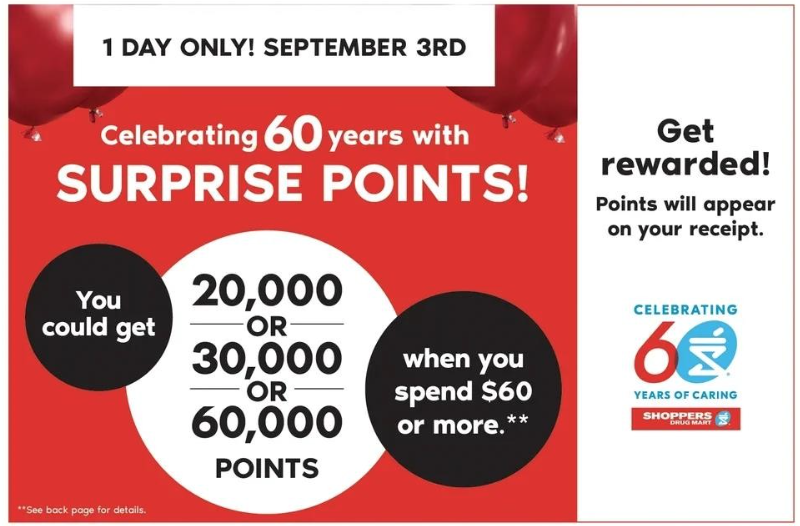 Shoppers Drug Mart Canada is celebrating 60 years with great offers.
Surprise points, Valid September 3, 2022, Only:
Get 20,000 or 30,000 or 60,000 Points when you spend $60 or more. Points will appear on your receipt.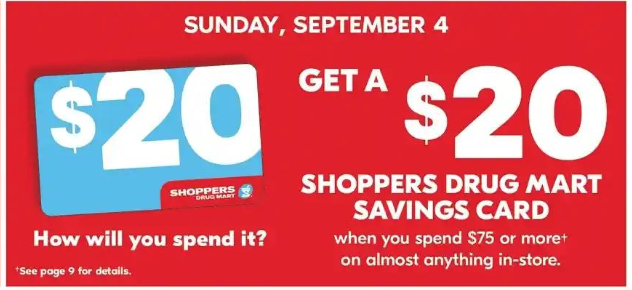 Savings Card, Valid September 4, 2022, Only:
Get a $20 Gift Card, When you Spend $75 or more on almost anything in-store.
Don't forget to check out Shoppers Drug Mart's flyer to view the 2 Day sale valid from Saturday, September 3, 2022, until Sunday, September 4, 2022, which includes:
Christie Cookies or Crackers 2/$5
6pk Pepsi 2/$6
6pk Coke $3.49
Cheetos or Doritos 2/$6
No Name Peanut Butter $2.99
Wonder Bread or D'Italiano Buns $2.49
Dozen Eggs $3.19
No Name Butter $4.29
No Name Bacon $4.99
Neilson Chocolate Milk $1.49
Dr. Oetker Guiseppe Frozen Pizza $5.49
Breyers Classic or Popsicle $2.99
Also, there are offers valid all week long.
Click below to view Shoppers Drug Mart Canada weekly flyers. Enjoy 🙂