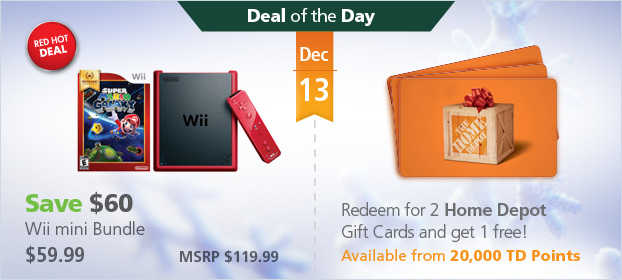 TD Rewards has a couple of very nice offers coming up as the deal of the day tomorrow.
The red hot deal of the day is a Wii mini bundle for $60. This includes the Wii mini console and Super Mario Galaxy game. Other retailers have been selling the console alone for $99.99, so this is probably the best offer you will see on the limited edition console this holiday season.
The redemption deal of the day is redeem for two Home Depot gift cards and get one free. They are available from 20,000 TD points.
The red hot deal of the day is done on a draw basis. Sim­ply click the but­ton next to the fea­tured item each day you are inter­ested and you will be entered into the draw. Those cho­sen will be emailed the same day by 4 PM EST (1 PM PST) and given two days to make their pur­chase. These deals go live mid­night EST on the day of the deal.
The redemp­tion deal of the day is pur­chased using TD reward points only. These will restock at 11 AM EST, 8 AM PST if stock runs out. Lim­ited quan­ti­ties are available.