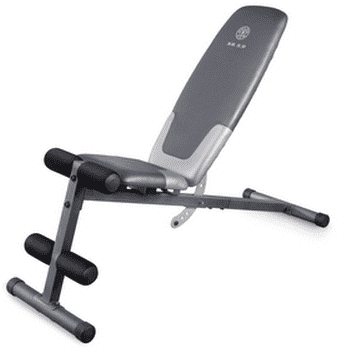 Walmart Canada is offering Gold's gym XR 5.9 bench for just $49 online. The bench also ships for free to most locations.
The Fine Print:
Product Features
Multi-Position Weight Bench

This multi-position bench conveniently adjusts to incline, decline or flat.

4-Roll Leg Lockdown

Add definition to your abs, obliques and hip flexors with this comfortable, 4-roll leg lockdown.

Slant Board

Work abdominal muscles with this bench that quickly converts into a slant board.

Sewn Vinyl Seats

Not only do they look nicer, but sewn seats are more comfortable and will last longer than vinyl seats that are just stretched and stapled to the frame.

Exercise Chart (ENGLISH ONLY)

Learn which exercises focus on specific muscle groups and how to perform each exercise effectively with this step-by-step exercise chart.
The Gold's Gym XR 5.9 Bench gives you chiseled abs and a powerful core. You can easily target your upper body or lower body for faster, more defined results. Simply adjust the bench to incline, decline or flat for specific exercises.
Click below to get this Walmart Canada online deal. Enjoy 🙂