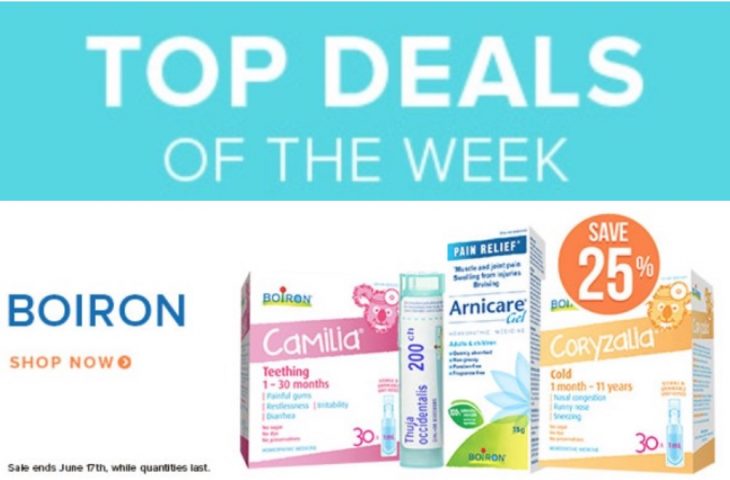 Well.ca Canada has released their new top deals of this week! The Well.ca deals of the week are valid until Sunday, June 17, 2018, and include:
Baby Extravaganza! Stock up and Save
Save 25% on Live Clean
Save up to 20% on Top Green & Natural Foods
Save up to 20% on Green & Natural Cleaning
Save 25% on All Jamieson Vitamins & Supplements
Save up to 20% on Beach Beauty Picks
Save up to 25% on Top Ingredients to Make Your Own Smoothies
Save up to 20% on Facial Sunscreen
Save 20% on Select Diono
Save 25% on Garden of Life
Save 20% on Kitchen Tools & Gadgets*
Save up to 20% on CanPrev
Save up to 20% on Top Natural Oral Care
Save up to 20% on Our Favourite Shampoo & Conditioners
Save 20% on Klean Kanteen
Save 20% on Diva Cup
Save 25% on Kiss My Face
Save 20% on John Masters Organics
Save up to 20% on Self Tanner & Bronzer
Save 30% on Every Man Jack
Save 20% on Urban Spa
Save 20% on Buck Naked Soap Company
Save 25% on Love Beauty & Planet
Save 20% on Bugaboo Cameleon3 Atelier – Limited Edition
Save 20% on Living Nature
Save 15% on J.R. Watkins
Save 20% on Nellie's All Natural
Save 20% on Now Designs
Save 20% on Lug
Save 15% on Poo-Pourri
Save up to 20% on Tableware
Save 20% on Eco-max
Save 25% on Boiron
Save 20% on Orange Naturals
Save 20% on Vega Sport
Save 15% on Land Art
Save up to 20% on Condiments, Sauces & Dressings
Save 20% on LaraBar
Save 15% on Taste of Nature
Save 15% on Wholesome Sweeteners
Save 15% on Lee's Ghee
Save 20% on Mary's Organic Crackers
Save 15% on The Good Bean
Choose Any Two Different Zoku Products and Save 25%
Save 15% on Select S'well Clearance
Enjoy FREE shipping on all online orders of $35 or more.
Click here to get all Well.ca sales of the week.